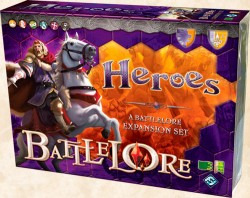 Dit is het laatste spelbesprekingenoverzicht van dit jaar. The Dice Tower bespreekt twee van mijn favoriete spellen: de uitbreiding 'Battlelore: Heroes' en de dungeoncrawler 'Descent: Journeys in the Dark'. Hoewel ik niet zeker weet of de Descent review (deel 1 van 6) goede reclame is voor het spel, omdat het de eerste review is van deze zeer enthousiaste Descent fan.
De nieuwe Spel – het kwartaalblad van de landelijke spellenvereniging Ducosim – is uitgekomen. Een aantal artikelen zijn online gezet en ik heb de links naar die spelbesprekingen hieronder opgenomen. Je kan de volledige inhoudsopgave vinden op de Ducosim website.
Hieronder volgende de spelbesprekingen die ik de afgelopen week tegengekomen ben. Als ik iets vergeten ben, laat dan een reactie achter.
Spel 13.2 (inhoudsopgave)
Recensies
Spelbesprekingen
Niet-Nederlandstalige videobesprekingen